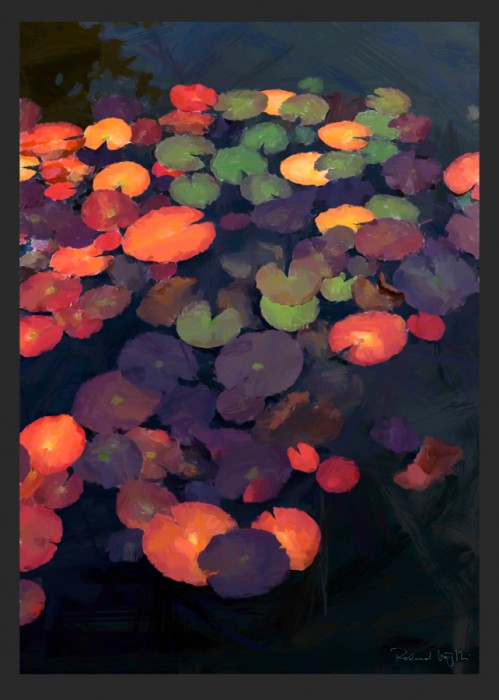 (click > zoom)
---
Ein Nachmittag im Herbst. Die Farben erwachen aus der Sommerruhe und umwerben meine Sinne wie lustvolle Lieder. Seerosen. Für Fotografen Segen und Fluch gleichzeitig. Tolle Motive, aber so oft schon gesehen und gezeigt. Irgendwann lässt man es sein. Ich mag sie trotzdem und immer wieder, die Seerosenbilder. Vielleicht auch, weil ich aus Claude Monet's Bilder eines gelernt habe: jedes Blatt eines Gartens, jeder Tropfen Wasser in einem Teich ist, wenn man ihn ohne Vorurteile betrachtet, so wundersam schön, dass Bilder ihnen kaum gerecht werden. Es braucht dann auch mehr, als nur die dokumentarische Abbildung. Der impressionistische Ansatz scheint mir passend, ist mir nahe. Darum auch dieses Bild in dieser Form und Bearbeitung.
Weiter unten findest du eine klassischere Arbeit mit denselben Blättern. Du kannst leicht einige der leuchtenden Blätter wieder erkennen…
---
An afternoon in the autumn. The colors are awakening from the summer sleep and are courting my senses almost like pleasurable songs. Water lilies. For photographers, blessing and curse at the same time. Great subject matters, but so often seen and shown. At some point one stops shooting them. However, I keep loving them, those water lily pictures. Maybe because I've learned from Claude Monet's pictures at least one thing: every leaf of a garden, every drop of water in a pond is, when viewed without prejudice, so wonderfully beautiful that pictures hardly do justice to them. It therefore needs more than just the documentary image. The impressionistic approach seems suitable, feels close. Therefore this image in that very form and processing.
Please find below a more classic work with the same leaves. You can easily spot some of the glowing leaves from the picture above …
---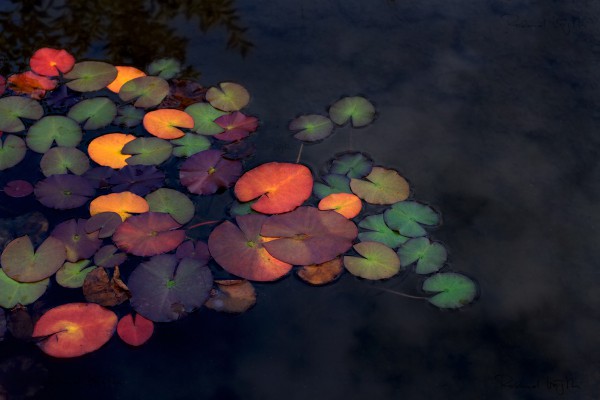 (click > zoom)
---
Yours truly